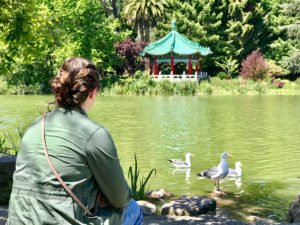 Welcome. I'm Addey–writer, lover of cats, and drinker of tea. I live and work in sunny, sometimes snowy, Colorado, and I have a degree in English Literature, magna cum laude with the highest distinction, from the University of Colorado.
I'm a freelance writer and romance novelist in progress. My work has appeared in riverrun, Odyssey, Sleet Magazine, Miss Milennia Magazine, Viewfinder Magazine, Black Dog Review, Vita Brevis, Furtive Dalliance Review, The Adroit Journal, and Scarlet Leaf Review, among others.
I am the poetry editor and a co-founder of borrowed solace: A journal of literary ramblings, where I also host and produce borrowed solace: the podcast. You can keep up with all of my writing here, or follow me on Medium where I help other writers and share my writing journey.
I love folk music (I'm a sucker for some good 'ole banjo) and I am an adamant proponent of the Oxford Comma. If we become friends in real life you'll also hear me talk endlessly about my love for my cats, Copper (a yellow tabby) and Cinders (a gray calico.)
Thanks for stopping by–hope you stay a while!