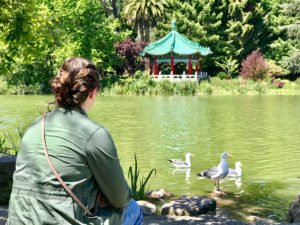 Addey Vaters is a writer hailing from sunny, sometimes snowy, Colorado. She has a degree in English Literature, Magna cum Laude with highest distinction, from the University of Colorado.
Addey's work has been published or is forthcoming in riverrun, Sleet Magazine, Miss Milennia Magazine, Viewfinder Magazine, Black Dog Review, Vita Brevis, Furtive Dalliance Review, The Adroit Journal, Scarlet Leaf Review, and Odyssey, among others. She is the poetry editor and co-founder of borrowed solace.
Addey is also the host and producer of borrowed solace: the podcast, which explores intersections of creativity and discusses all sorts of writerly topics. 
She loves anything and everything related to cats and/or folk music, and is a proponent of the Oxford Comma.